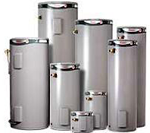 After heating and cooling, water heating is typically the largest energy user in the home because it is necessary for so many domestic activities. The capacity of a water heater is an important consideration. The water heater should provide enough hot water at the busiest time of the day. We offer a wide variety of electric, gas and tankless water heaters.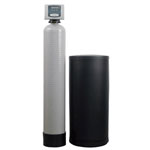 Softeners
A water softener is a special type of filter that removes the calcium and magnesium in hard water by using plastic beads and cleans itself periodically by a process called "regeneration." Water softeners have three main components: a mineral tank, brine tank and control valve. Smaller capacity models combine the mineral tank and brine tanks into one cabinet, but the two tanks are still separated within the cabinet. The mineral tank is where the water filtration takes place and the hard water is softened (calcium and magnesium are removed).The brine tank is where a solution of salt or potassium is stored. The control valve is the device that controls the flow of water into and out of the mineral and brine tanks during regeneration.
Sanitizers
Using a unique crystalline media, Sanitizer conditioners effectively remove hardness, iron and manganese while raising low pH level — all in a single pass. The chlorine generator safely sanitizes the entire media bed to remove nuisance bacteria and related odors.
Neutralizers
Installing an acid neutralizer is the most effective and economical way to correct a low pH imbalance of your water. The signs of acidic water - if you have copper pipes - are blue or green stains in the bottom of your tub or sinks. If you have low pH, acidic water not only can create these stains, but can also, over time, damage your copper water pipes and create pinhole leaks. By installing an acid neutralizer, you can possibly slow down or stop the problem at its source. Essentially, this can save you a lot of money in the long run by not damaging your fixtures and copper pipes and building.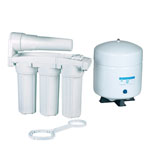 One of the most important things you can do for your family's health is to ensure clean, pure drinking water is flowing from your taps. With quality products from Watts, we can help you meet that goal. There are particles, disolved organics, disolved inorganics and bacteria in your tap water that can be removed using various type of filtration processes. Here is a brief explanation of each:
Sediment Filtration
Sediment filtration uses a filter media to trap particulates out of the water. The filter media comes in the different styles of depth, screen and surface filters, all with the function of removing sediment from the water. Using the right combination can be highly effective and be the most cost effective way to eliminate sediment from your water.
Taste & Odor Filtration
Filter media usually doesn't trap the dissolved inorganics and other contaminants that effect your water's taste and smell. Using activated carbon filtration to absorb these contaminants from the water is the best way to eliminate odor and taste issues. The carbon adsorption process is controlled by the diameter of the pores in the carbon filter and by the diffusion rate of organic molecules through the pores. The rate of adsorption is a function of the molecular weight and the molecular size of the organics. Carbon is usually used in combination with other treatment processes. The placement of carbon in relation to other components is an important consideration in the design of a water purification system.
Reverse Osmosis
Reverse osmosis (RO) is the most economical method of removing 90% to 99% of all contaminants. The pore structure of RO membranes is much tighter than UF membranes. RO membranes are capable of rejecting practically all particles, bacteria and organics. In fact, reverse osmosis technology is used by most leading water bottling plants.
Reverse osmosis is highly effective in removing several impurities from water such as total dissolved solids (TDS), turbidity, asbestos, lead and other toxic heavy metals, radium, and many dissolved organics. The process will also remove chlorinated pesticides and most heavier-weight VOCs. Reverse osmosis and activated carbon filtration are complementary processes. Combining them results in the most effective treatment against the broadest range of water impurities and contaminants.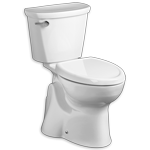 Toilets
Almost all toilets have a similar tank capacity. When choosing a tank, you'll have flush valve size and flush lever positioning to consider, as well as the flushing system. The flush valve, which is located at the center of the tank, is activated by the flush lever and releases the water held in the tank. The larger the flush valve, the higher the rate of water flow. Flush levers are positioned either on the side, front or top of the tank.
The pressure-assisted and gravity-flush systems are the two standard flushing systems available:
Pressure-Assisted Flush System: Pressurized air forces water into the bowl when flushed, reducing the chance for clogs. This system is noisy, expensive and may require costly maintenance.
Gravity-Flush System: The most common and simplest system, it uses the water weight to generate flushing pressure. The pressure forces everything from the tank into the bowl and through the S-shaped trapway. A siphoning action completes the flush. This flushing system is quieter and requires less maintenance than a pressure-assisted flushing system.
Additional toilet technology includes:
Dual Flush: This is a relatively new system for saving water without sacrificing efficiency. There are two flushing options for a full or partial flush (ex. 1.6 gallon flush and 1.1 gallons per flush).
Waterless Toilets: Where water or plumbing is not available or when portability is required, a self-contained waterless unit is an option.
Kitchen & Bathroom Sinks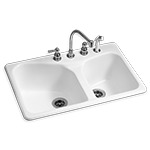 The kitchen may be the heart of the home, but the sink handles most of the daily chores. That's because it's the only working area used to both prepare meals and clean up after them. Although quality sinks can last 15 years or more, they do wear out. If you're planning a kitchen remodel, it makes sense to replace your sink and faucet.
Kitchen Sink Size vs. Kitchen Size: With so many options — single bowls to multiple bowls of different sizes, shapes and depths — you need to consider the size of the room and how you'll use the sink. Large multibasin models, which are popular right now, will overpower a small kitchen.
What material best suits your needs?: There are many kitchen sink materials to choose from, including stainless-steel, enameled cast iron, quartz silicate and solid surface.
Here's what to consider when choosing a new bathroom sink style: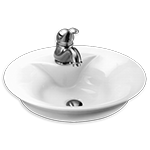 Pedestal: A good choice for powder rooms and guest baths where storage is less important and space is limited. Their sleek, sophisticated lines can visually enlarge a room, while also enhancing its appearance. Pedestal sinks come in a variety of styles and shapes.

Wall-Mount: Wall mount sinks feature a basin that it hung from the wall at a location and height that you choose. Lately, these sinks have seen a rapid gain in popularity. In part because there are so many attractive and innovative designs available, but also because they're ideal for universal access applications.

Undercounter: Clean, modern, distinctive. That's the beauty of undercounter sinks. They free up usable counter space, and since there is no rim to catch debris, they're also the easiest type of sink to keep clean.

Above Counter/Vessel: Versatile and stylish, above-counter sinks rise above the countertop, console or cabinet to create a dramatic focal point. They are best suited for master baths and powder rooms, especially in contemporary, cosmopolitan homes. Keep in mind that since these sinks sit above the countertop, the countertop should be lower than normal to allow easy access to the sink. Also consider what type of faucet to use with a vessel sink. Tall vessel faucets work well along with wall mounted faucets.

Countertop: These sinks, also called drop-ins and self-rimming, fit into a variety of countertops. And thanks to their self-rimming nature, they're the simplest type to install. Countertop sinks are the style most commonly found in high-traffic family bathrooms.

Integral Countertop: These sinks combine a countertop and sink together. Their one piece, seamless design allows for a clean, sleek look. Since there are no crevices they are also one of the easiest styles to keep clean.
Bathtubs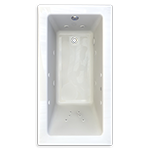 If you're remodeling and looking to add a new bathtub to your bathroom, find out what options are available for bathtub types, installation options, and materials to find the perfect tub for your bath and budget.
Find the Right Type of Tub for You
Some tubs are all function, while others focus on indulgence. Let the primary use dictate your selection as you determine what works best for your household.

Standard: This affordable, jack-of-all-trades built-in basic is often found in an alcove installation and doubles as a tub-shower combo; it can be purchased at your local home improvement center.

Whirlpool & Air Tubs: Think of it as an on-demand therapeutic massage in your home. A whirlpool forces water through strategically placed jets, and an air tub pushes a soothing, steady stream of air into the water. With the extra plumbing required, whirlpools tend to be more expensive than air tubs. Visit a showroom or chat with your designer to determine which option best fits your preference and space.

Soaking: Extra-deep dimensions allow the bather's body to be completely submerged. It can be either built-in or freestanding. Walk In: Climbing in and out of a slippery tub can be dangerous, but a walk-in tub is great for those with mobility concerns.
Showers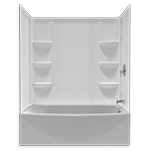 Need a bathtub and a shower but don't have the room for separate pieces in your bathroom? A space-saving combination tub-shower is a smart choice. These two-in-one units make the most of limited space by providing all the benefits of both a shower and a bathtub in a compact footprint, which can be particularly useful in a child's or guest bathroom. When you don't have room or funds for a separate tub and shower, a combo model is also a wise choice for boosting your home's resale value because it serves homeowners who prefer either option.
Tub and shower combos are available as prefabricated kits or can be installed as a custom design. Typically made from fiberglass or acrylic, prefab units are available from very basic and affordable models to pricey versions that include tile-look walls, modern colors, and shelves. Although the design options are limited with prefab units, you can personalize the unit with the fixtures you choose. A glass shower door can also give the illusion of more space than a curtain. A sliding door is installed on a track along the edge of the bathtub.
Let the experts at Simco Plumbing, Heating & A/C help explain all the details and customize a solution that's right for you.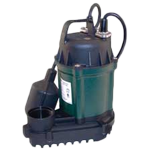 At Simco Plumbing, Heating & A/C, we offer a variety of solutions that can handle any of your wastewater issues. From standard sump pumps to innovative water powered pumps, we can recommend the products that will protect your property from damage. Our commitment to using the best technology and extensive industry experience makes us the best option to handle all of your home or commercial wastewater needs.
We offer solutions with the following products:
Sump Pumps
A sump pump is the first line of defense if your basement floods, so it is important that you choose the right solution for your home.
What is a Sump Pump?
A sump pump is a small pump found at the lowest part of a crawlspace or basement. It works to keep the area under a building dry and to prevent flooding. These pumps are usually installed in sump pits, and their job is to pump water out of the pit and away from the structure.
How it Works
As the sump pit in your crawlspace or basement fills with water, a sump pump should automatically turn on when a float activator arm is triggered. The float activator will work similar to a toilet tank – a buoyant ball will float on the top of the water before tripping the pump switch once the water reaches a specific level.
The sump pump then works to move liquid out of the pit and through a series of pipes that lead away from your home. The water will drain to a safe place away from your property's foundation, and because the pipe includes a one-way check valve, it should not flow back into the pit.
Battery Backup Sump Pumps
Unfortunately, electricity isn't always reliable, so it is important to have a backup solution in place in the event that your property experiences a wastewater event. A battery backup sump pump isn't connected to your home's electrical system, and it runs off of a battery. It is usually found in the same place as the main pump, although it should be slightly elevated.
Why Do You Need a Battery Backup Sump Pump?
After you invest in a sump pump, you may be wondering why you would need an additional backup pump. Unfortunately, like all systems, primary sump pumps have a limited lifespan. They could fail for several reasons, and a backup system will be there in case of an emergency:
Power outage. Should your electricity go out, your battery backup pump will activate.
Float switch malfunctions. Should your float switch malfunction, rising water levels can automatically activate your backup system.
Primary pump failure. Should your primary pump fail completely, the backup sump pump will automatically take over.
Failure to keep up with water inflow. If the primary pump simply can't keep up with the inflow of water, backup system activation can help lessen the load.
Don't wait until a wastewater emergency to find out your primary pump isn't working or can't handle the job. Invest in a battery backup system today.
Water Powered Pumps
If you are in need of a backup option to your primary electric sump pump, a water powered pump is a great solution.
What is a Water Powered Pump?
A water powered pump provides you with an efficient way to pump out water without a battery backup or the use of electricity. As long as you have access to city water, you'll have a working pump and dry basement – even in the event of a power failure. Unfortunately, this won't be an option for homes that use well water.
How it Works
Water powered sump pumps work because of the Venturi effect. When connected to city public works, water will flow through the pump. The constriction that results will cause a reduction in pressure that literally sucks water out of the sump pit. The water will then combine with your home's flowing city water before exiting the basement via a discharge line.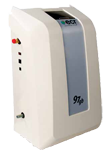 If your home has hot water radiators in each room for heat, you have a boiler to heat the water. Like a furnace, the energy efficiency of a boiler is given as the Annual Fuel Utilization Efficiency (AFUE). Boilers manufactured since 1992 must have an AFUE of at least 80%. We offer a complete line of gas boilers starting at 80% AFUE and up.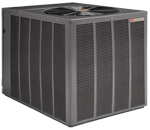 Air conditioners may look similar, but their Seasonal Energy Efficiency Rating (SEER) can vary widely. Higher SEER numbers save more money spent on electricity. A 13 SEER air conditioner, the EPA "current minimum standard", uses 23% less energy than a 10 SEER unit (EPA standard up until Jan. 2006). Even though 13 SEER is the minimum efficiency available, we currently offer a line of air conditioners that start at 13 SEER and go all the way up to a 21 SEER. Depending on your average usage, higher SEER air conditioners can significantly reduce your electric bill.
Additionally, we offer many air conditioners that have advanced features, such as 2-stage compressors and variable speed fan operation. These features not only improve the comfort level of your home, but can provide additional energy savings as well.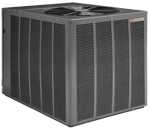 Heat pumps are a great solution for your home comfort system because they work to provide both heating and cooling. Heat pumps have SEER ratings like air conditioners and Heating Seasonal Performance Factor (HSPF) ratings for measuring heating efficiency. Higher SEER and HSPF ratings mean greater energy savings.
Heat pumps are a very efficient alternative to electric heat. A heat pump works the same as an air conditioner in the summer, but it runs in reverse in the winter to heat your home. The system will be matched with a backup heating source, most often electric heat for those extremely cold days of winter.
Just like our air conditioners, many of our heat pumps have advanced features, such as 2-stage compressors and variable speed fan operation. These features not only improve the comfort level of your home, but can provide additional energy savings as well.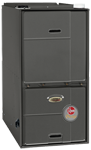 Today's new high efficiency furnaces can save up to 50% in operating costs over a ten-year-old furnace. Many 1990 and earlier model furnaces have Annual Fuel Utilization Efficiency (AFUE) ratings of 65% or less. The minimum AFUE rated furnace that can be sold in the United States today is 80%.
Our current product offering starts at 80% AFUE and goes all the way to a very efficient 96.6% AFUE rating. Depending on your average usage, higher AFUE rated furnaces can significantly reduce your gas bill.
We offer many furnaces with variable and multi-speed features that can provide enhanced indoor comfort by slowly ramping up to your thermostat setting rather than simply turning on at full speed. This alleviates the "cold air blow" often associated with single speed furnaces, and dramatically reduces system noise.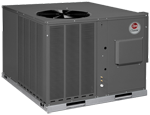 Our complete line of packaged systems includes: Packaged Air Conditioners, Packaged Gas Furnaces and Air Conditioners, Packaged Heat Pumps and Packaged Hybrid Heat.
These self-contained systems are located outside of the home, mounted on the ground or the roof, and ducted into the home.
Just like individual furnaces, air conditioners and heat pumps, these package units carry SEER, AFUE and HSPF ratings. The higher the rating, the more energy efficient the unit is. We carry a wide offering that includes advanced features such as 2-stage compressors, variable speed fans and quiet operation.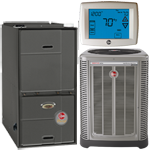 With a traditional heating and cooling system, if you wanted to save more, you had to use less. But a Hybrid Heat system combines the benefits of intelligent control for both gas and electric heating to create an intuitive system that can actually react to changing conditions.
No matter what the temperature is outside, a Hybrid Heat system will automatically select the fuel source most efficient for your home, which means you'll stay warm in the winter, cool in the summer and save money all year long.
To design a Hybrid Heat system for your home, we professionally match one of our heat pump units with a natural gas furnace. Contact us to see how much energy you can save over your existing system.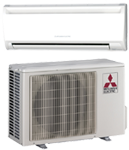 Duct free heating and cooling systems make your home's individual rooms or other small spaces more comfortable. Remember, just like whole-home systems, the higher the SEER and HSPF ratings, the more efficient they will be.
We offer a variety of through-the-wall packaged terminal air conditioners (PTAC) and duct free heating and cooling systems to meet any individual room's needs.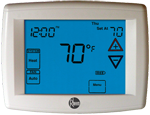 Thermostats are used to turn on heating or cooling systems to bring the home to a set temperature. In addition to basic temperature control, programmable thermostats can be used to manage the indoor environment of your home at different times of the day or week. This type of control can have a dramatic impact on the overall energy use of your home. We carry a complete line of thermostats. Let us help you choose the one that best matches your lifestyle.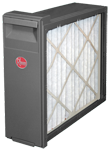 Air cleaners effectively remove bacteria, pollen, animal dander and other pollutants as small as 0.01 microns. That's 18,000 times smaller than the head of a pin. The higher the Minimum Efficiency Reporting Value (MERV), the more efficiently the cleaner removes particles. We offer air cleaners that range from MERV 10 to MERV 15 to meet your needs. For those families that have severe allergies, we also offer Whole House High Efficiency Particulate Arresting (HEPA) filtration systems.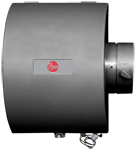 Humidifiers work in tandem with your heating system to deliver desired humidity levels throughout your home. Maintaining proper humidity levels in your home is essential to maintaining indoor comfort during the winter months. Moderate humidity levels make you feel warmer at lower temperatures, which means you can set your thermostat lower without sacrificing comfort.

Depending on the size of your home, we offer a variety of humidifiers to deliver the right amount of moisture into the air. Sizing of humidifiers is measured in Gallons Per Day (GPD), and we offer models from 12 GPD to 18 GPD.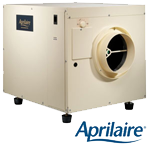 Too much humidity harms your immediate environment. Estimates suggest that the average family can produce over 11 liters of excess moisture every single day. While this affects the house in obvious ways, like mold, damp patches and spoiled surfaces, it also affects people's health in more important ways, aggravating conditions like asthma, arthritis and rheumatism.
Dehumidifiers work in tandem with your heating and cooling system to maintain desired humidity levels throughout your home. Maintaining proper humidity levels in your home is essential to maintaining indoor comfort during the summer months. Lower humidity levels make you feel cooler at warmer temperatures, which means you can set your thermostat higher without sacrificing comfort.
Depending on the size of your home, we offer a variety of dehumidifiers to remove the right amount of moisture from the air.
Carbon Monoxide Detectors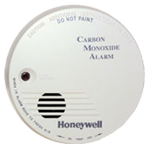 Carbon Monoxide (CO) is a colorless, odorless, and tasteless gas which makes it extremely dangerous. CO detectors can protect your family from deadly carbon monoxide gas. Fuel-burning appliances such as oil and gas furnaces, gas water heaters, gas ranges and ovens, gas dryers, gas or kerosene space heaters, fireplaces and wood stoves are all sources of carbon monoxide.
A monitored carbon monoxide detector will alert you if high levels of this deadly gas are detected. Local building ordinances require the installation of carbon monoxide detectors in your home. An expert technician from Simco Plumbing, Heating & A/C can properly install your CO detector and ensure it's functioning correctly.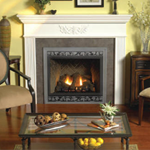 At Simco Plumbing, Heating & A/C we believe that you should know all your heating options available before investing in a system for your home, and fireplaces are one of those options. Our experts can install both wood and gas fireplaces which come in a variety of designs to best suit your home.
Wood and Gas Fireplaces
Wood Fireplaces
Wood fireplaces are the answer for those seeking the genuine ambience and warmth that can only be provided by gently burning wood. Wood fireplaces have character that can't be beat by gas fireplaces.
Gas Fireplaces
Gas fireplaces, are extremely easy to use and safely add the warm glow of a fire to your home anytime. We offer a wide variety of styles for the log designs in order to make your fireplace look exactly how you want it. Gas fireplaces, require far less maintenance than wood burning fireplaces, but should still be properly maintained and adjusted annually by a professional.
Service
Whether you're looking for a new fireplace installation or fireplace maintenance, please call Simco Plumbing, Heating & A/C to ensure your fireplace is being serviced by an expert.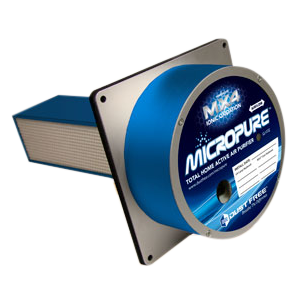 The MicroPure® Total Home Active Air Purifier uses a unique new indoor air quality process to naturally produce airborne scrubbers that actively seek out and destroy pollutants in the air AND on surfaces.
MX4™ Ionic Oxidation utilizes propriety metallic technology and UV light energy to naturally produce ionic air scrubbers and destroy many indoor pollutants, such as bacteria, viruses, mold, VOC's, mildew, allergens, and odors.
Features
ALL NEW MX4™ Ionic Oxidation eliminates pollutants in the air and on surfaces.
Active purification throughout all living spaces 24 hours a day.
Eliminates bacteria, mold, viruses, mildew, smoke, odors, VOC's, and more.
Ionic air scrubbers destroy indoor contaminants anywhere the air goes.
Unique air purification process even cleans air that doesn't pass through the HVAC system.
Installs in any HVAC system.
NASA-developed technology for use in the International Space Station.
5", 9", and 14" models
24V and 120V/230V power supply options.
Long life warranty. 5-yr power supply, 4-yr MX4™ core, 2-yr UV lamp.
Downloads